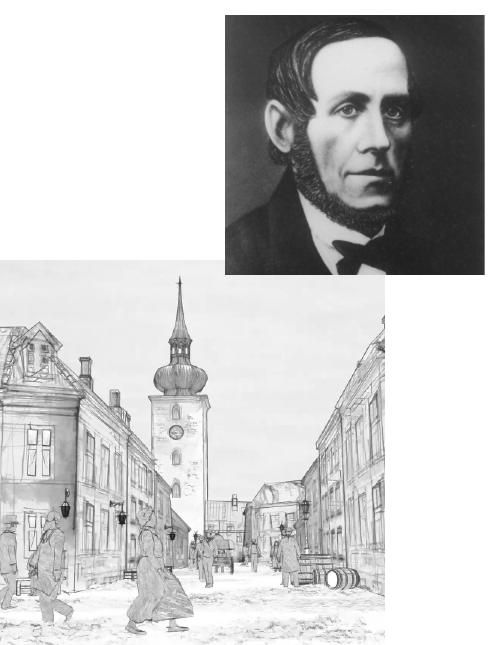 It all begins in Horsens
Our founder Johan Wilhelm Schur travels from his hometown of Flensburg to Horsens on the east coast of Jutland, Denmark. On 2 June 1846, he opens his lithographic workshop in the heart of Horsens.
Johan is skilled and hardworking, operating the entire lithographic process himself. Tailoring his craft to the needs of the city's bustling marketplace, and its prosperous inhabitants, he specializes in the production of wine labels and sheet music.
By coincidence, Johan becomes a supplier to the Russian Court. The physician-in-ordinary to the czar is Danish and often visits his brother, who is a prison doctor in Horsens. The physician-in-ordinary knows that the czar wants some Russian icons printed, but no supplier in Russia can solve the task. However, J.W. Schur is able to help – and the collaboration is established.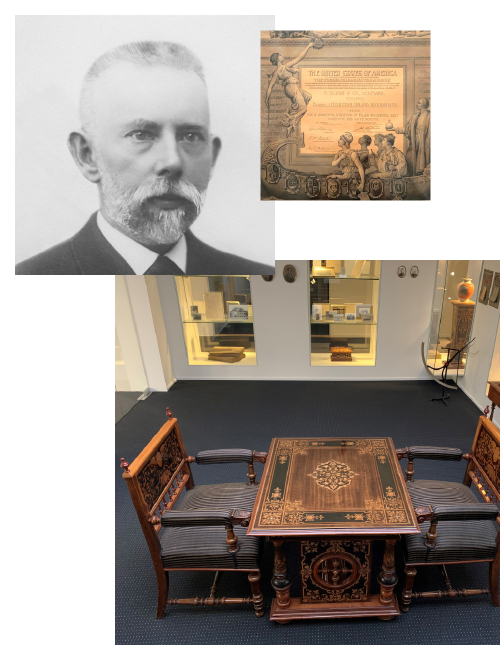 Fritz Theodor Schur sets the direction
Johan passes the workshop on to his 32-year-old son Fritz Theodor Schur. By now, the business is thriving and has earned a reputation for proficiency and punctuality among its customers.
Fritz shares his father's work ethic and eye for opportunity, and over the next 24 years he transforms the firm into one of Denmark's largest printing concerns. The company name indicates a move into a new and – for our story – significant product area:
Schur & Co. – Lithography – Printing works – Box factory
Like his father, Fritz has big ambitions. Among other things, he believes that printing on wood is a sure path to success. He develops an innovative method for this, and achieves a world patent. The method wins an award at the 1893 World Expo in Chicago, and Fritz sells the idea to a German company. However, they do not pay, and Fritz changes focus just in time to get the business back on track.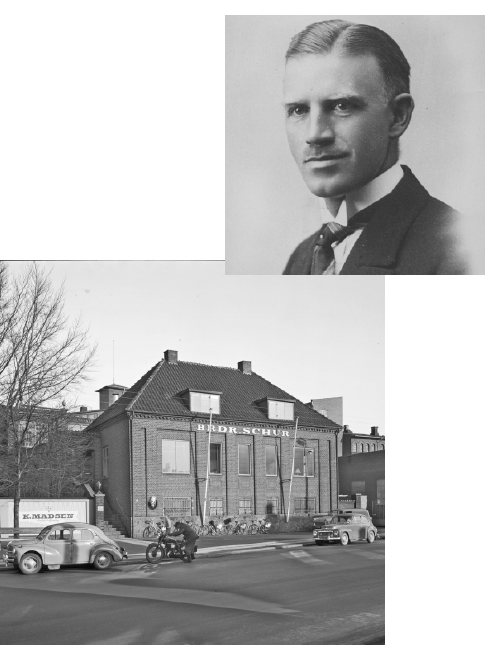 Johan Wilhelm and Axel modernize the firm
In 1906, Fritz Theodor's sons Johan Wilhelm and Axel Schur are just 22 and 20 years old when they learn of their father's untimely death. Recalled from travels by their mother Caroline, they promptly take charge of the firm and begin a process of modernization.
In 1915, the brothers open a new factory that offers modern offset printing. They install two-color offset machines and are soon able to add new products to the range, such as cigar boxes, detergent containers, and labels for tinned and bottled produce.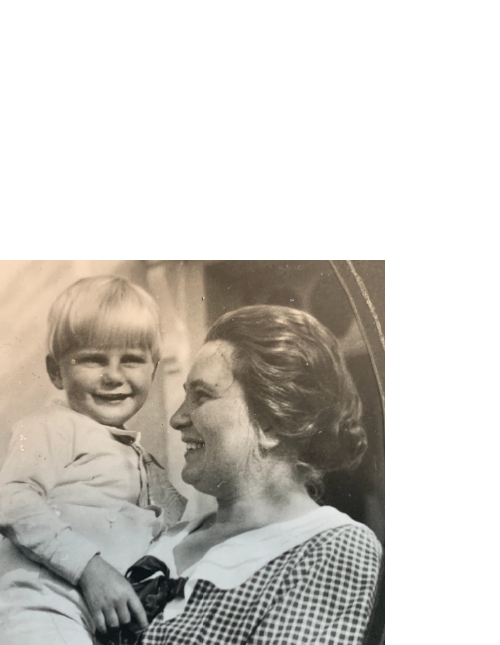 Anna Hansine Schur keeps the wheels turning
Like their father, Johan Wilhelm and Axel die early: Axel at 33, Johan Wilhelm at 46. Johan Wilhelm's widow Anna Hansine is left with four children – Torben, Axel, Else, and Fritz – and a business to manage.
Anna Hansine keeps production going in the years that follow. Her determination endures the deepening international crisis and proves instrumental in preparing the next generation for the success that she, sadly, will not live to see. After World War II, 4th generation takes over the management of the company.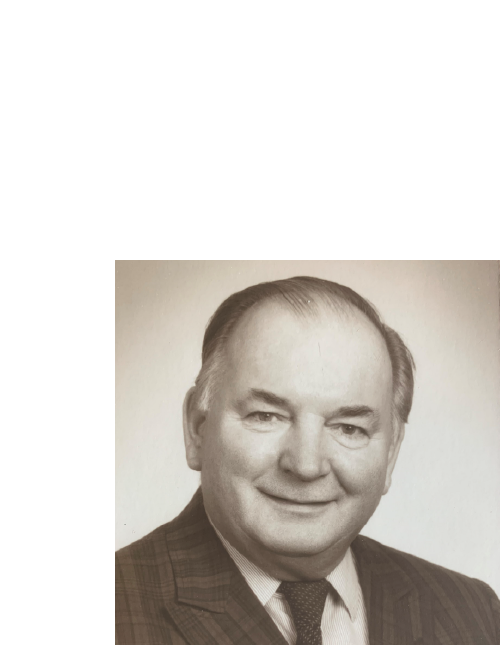 At last, progress resumes
Optimism is returning by the late 1940s. The large and reputable Copenhagen firm P. Christiansen A/S is acquired in 1947. The business is run until 1956 by Anna Hansine and Johan's four children, who decide to split the activities among them.
Axel and Torben Schur stay in charge of the company in Horsens, renaming it Brødrene Schur Horsens (Schur Brothers, Horsens). Axel Schur is appointed CEO and the business is soon to expand its product portfolio.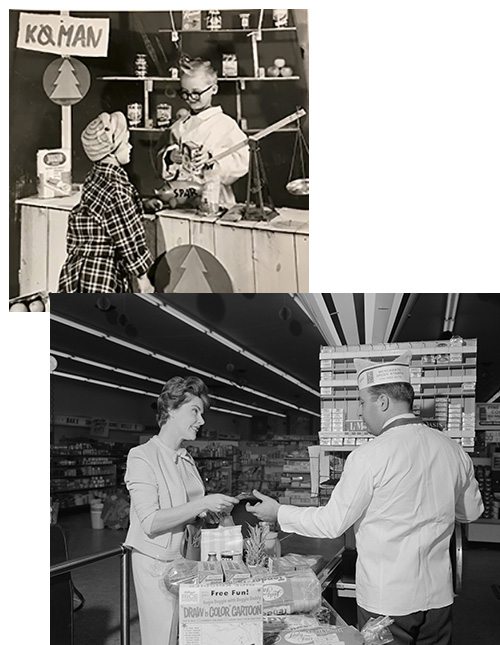 Brødrene Schur Horsens see change as an opportunity
Changing lifestyles and greater equality make self-service the dominant consumer trend. The relationship between consumer and manufacturer moves out into the shopping aisles, and packaging – with its potential to protect and promote products – becomes more important than ever. 
The Schur brothers seize the opportunity. They develop bigger facilities and new formats. With the purchase of Horsens plastics factory, they make the first move into what will become a large flexible packaging sector. In 1960, the company makes a huge stake with the acquisition of Hagen & Sivertsen. The company name changes once again – this time to Brødrene Schur Hagen & Sivertsen.
The brothers also purchase a machine factory, today known as Schur Technology, in order to offer a more integrated packaging solution for their customers.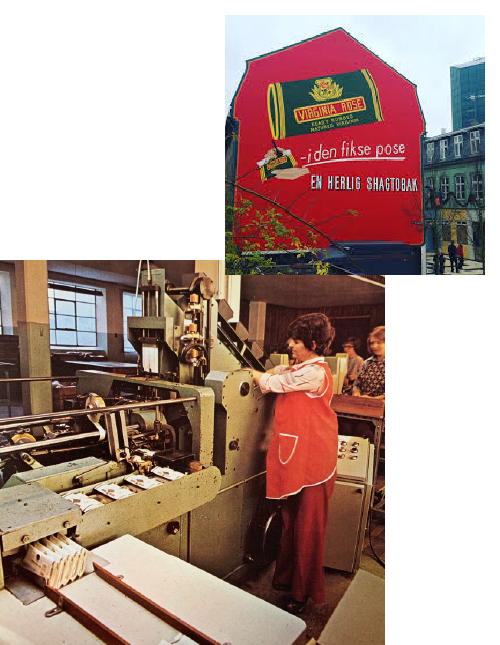 Schur goes global
Our first international venture takes us all the way back to Flensburg, where we start manufacturing tobacco pouches.
It's a small move, in geographical terms, but a significant step as it marks the beginning of a truly global organization that today operates facilities in six countries and serves markets all over the world.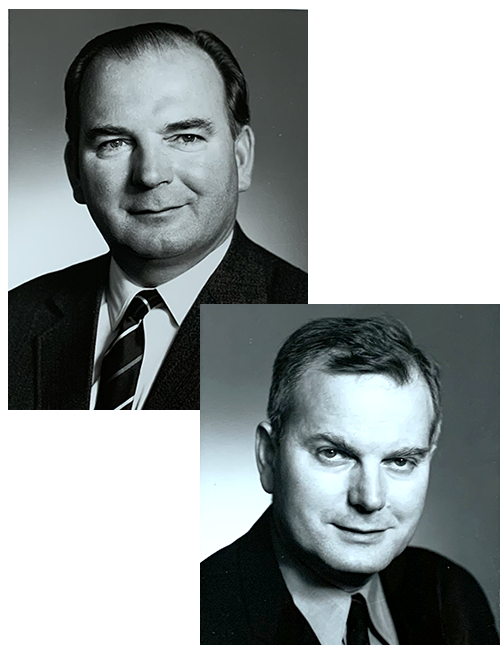 Covering more activities
In 1972, the company covers both the packaging business with locations in Horsens, Holland, and Germany as well as several trading companies, a printing company for advertorial posters, multiple publishing companies, and bookstores – all located in Copenhagen.
With Torben living in Copenhagen, the two brothers decide to divide the business activities between them. Torben remains in charge of the diverse businesses in Copenhagen, while Axel continues as CEO of the packaging business. Shortly after this, the generational succession from fourth to fifth generation is initiated.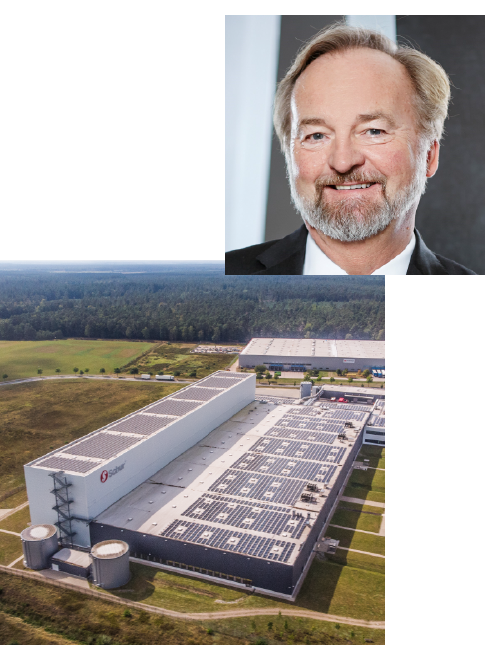 1982 and beyond
In 1982, it's time for the fifth generation to take the lead. Hans Schur, son of Axel Schur, is appointed CEO of the group.
Hans Schur's time as CEO has been characterized by globalization and competitors moving their production to countries with lower paid workforces. Schur's production facilities have remained in Denmark and Western Europe, while the company has also invested in production facilities in the US and Australia. In 2016, Schur invested heavily in the European packaging market by building the most modern and automated factory in Gallin, Germany, for Schur Pack Germany. 
A willingness to invest combined with trimming the organization have been paramount for securing the position of end-to-end supplier within packaging that Schur holds today.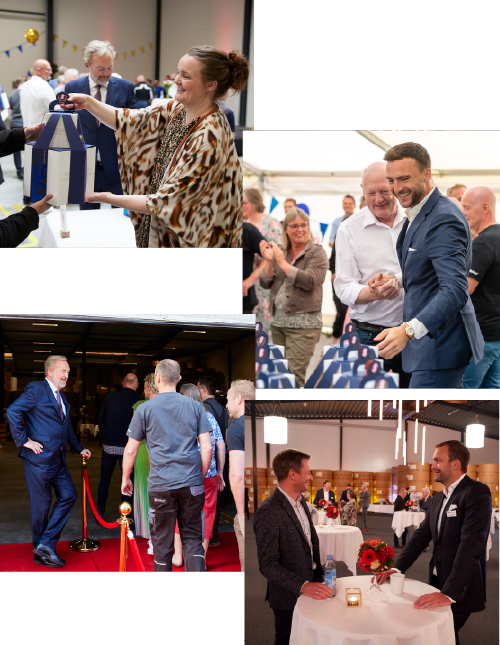 Our 175th anniversary
Our product portfolio has expanded, our technologies have advanced, and our reach has grown far beyond the imaginings of our founders. And yet some things remain the same as they were in 1846.
Belief in the future, embracing change, and acting with decency have been our fundamental strengths. They have enabled Schur to prosper for six generations, and they will ensure we pass on a strong and healthy business for the generations to come.
On 2 June 2021, the entire group celebrated our 175th anniversary as a family-owned packaging group, and on 1 July, Hans Schur passed the baton on to his three children. Hans Christian Schur and Johan Sebastian Schur take on daily management, and Anna Katharina Schur joins the board of directors.